Where to Shoot Boudoir Photos Without Breaking the Bank
Boudoir photography is becoming more and more popular within the photography community, but it can be tricky to know where to begin if you're new to the genre.
Perhaps you've heard that if you want to be a boudoir photographer, you should do your boudoir shoot in a hotel room or bundle it with additional services. That sounds wonderful!
But if You are Just Starting Out?
Add a header to begin generating the table of contents
However, for many photographers, wanting to add boudoir sessions to your photography business may be difficult. If you're just getting started even more so; I remember when I first started out, we would easily spend at least $1000 per boudoir session.
Having the funds to rent space or have your own studio can be difficult to fit into your budget especially if you are just starting out. It can feel like boudoir photography is only for the lucky ones.
Well, I have great news! You don't always need to shell out money you don't have or lease a studio.
We're going to show you some of our favorite places that worked for us as well as other boudoir photographers that we personally know, and give you some amazing tips on what to look for when scouting a location!
You don't need a lot of fancy equipment or huge spaces. All you need is just a little creativity and some tips from the pros! Here are a few ideas for where to shoot your next boudoir session, even if you're just starting out.
Thinking Outside The Studio For Your Boudoir Photography Business
Whether you are thinking of adding boudoir to your photography business or thinking about building a boudoir photography business, boudoir photography can be a fun and lucrative niche!
Boudoir photography is a unique way to show many women how you see them or open their eyes to seeing themselves in a more empowered and confident light! Boudoir is one of the most rewarding things you could possibly do! (Speaking from personal experience here)
But boudoir is an art form that requires some thought and planning when it comes to location. You can't just throw a sheet over a couch, and call it good, although admittingly we've seen many photographers try!
You must consider boudoir lighting, boudoir posing, and boudoir cosmetics, but more importantly, you'll need a place to hold your boudoir session!
Because boudoir is all about the woman, her beauty, and her unique femininity. You need to find a space that honors that, and it doesn't always have to be a "studio".
There are many different approaches to boudoir photography, and there's definitely no "one size fits all" formula for creating an amazing boudoir session. However, in order to produce your best possible results - whether you're looking for stunning portraits or sensual imagery, boudoir is an art form that requires some thought and planning.
I will be discussing locations that you can look for right now, for your next shoot.
1: Use Your Clients Home for A Boudoir Session
I wanted to start with using your client's home because it is the most common place to start. It can also lead to disaster if it goes wrong but be creative and set yourself up for success and it can be a beautiful thing!
In my experience, using a client's own home creates a comfortable environment because they already feel comfortable in their home. They are in their element, so they tend not to feel as awkward or self-conscious.
There are some things to watch out for though!
What to Look For and Avoid
If it is an empty, large space that has lots of options, great! At the same time, it doesn't have to be huge, just roomy enough for you to move around freely with your light stands and props. Props can be as simple as a few throw pillows and an area rug. Look around the space you will be shooting in. Do you have large windows and lots of natural light? If so, great!
You also want to avoid busy patterns or walls with a lot of colors in your backdrop. Try and stick to a white or brick wall. If they have hundreds of photos all over the walls, those will be distractions. Let them know that their photos are great wall decor, but you do not want any distractions in the background because they will take away from the client and it will be hard to edit out later if you need to!
What I do to get an idea of what I'm working with, is ask your client to send you a video walkthrough of the shooting space at the time of day you want to shoot. Doing so early on will help you figure out logistics further in advance. Size up the area and consider how much space you need to set up your lights, props, and backdrops.
*You might also want to discuss with your client whether or not you can move things around such as furniture or decor. You should also keep in mind that your client will want to have the shooting space of their home as tidy and clutter-free as possible.
The most important drawback to consider is if a client's house is too small, logistically speaking to carry out their vision (and whether you will have the space to move around lighting equipment if necessary). In this case, I suggest using a wide lens, but you can also try other locations in the post.
2: Shoot Boudoir Photography From a Dedicated Room in Your Home
Having a dedicated room in your own house or apartment, really allows you to be creative and not have to worry much about space. If you want to be a boudoir photographer, it also greatly helps to know you have a dedicated space for paying clients.
It's also much more cost-effective to develop your own space than renting a one-day studio. There aren't any unwanted distractions from using someone's home or having the worry of clutter. You also don't have to worry about other photographers waiting to use the rental space as soon as you are done. The best part is when you market your business, you will have a consistent mood and vibe in your boudoir portfolio!
Boudoir Photographer Case Studies
For example, one photographer I know has a spare bedroom, and it is pretty small! She turned it into her very own boudoir photography studio for this client. She created amazing imagery, and now she does her entire boudoir business utilizing this single room!
It's up to you if you'd like to use a backdrop. Personally, I never use them because I can make any wall look like a professional studio background with lighting and my lens choice (and hey, sometimes a little bit of photoshop of course, but we'll get to that later.) I also love the organic feeling that using space can bring out where backdrops can feel more posed.
If you decide to go the backdrop route, try and use paper backdrops. They are extremely easy to store and move around or they come in rolls. You can cover your entire wall in them if you want, and it makes for an easy transition when changing locations. There are some great options on Etsy to choose from at a very reasonable price!
The key is to make sure you have everything at your immediate disposal so that there are no distractions from the photographic process.
I suggest adding some accent colors to your space as well, such as throw pillows or table coverings.
Just remember, this room must be big enough to accommodate your camera gear and workspace. Lighting is very important as well because you need to be able to control the light coming into the room!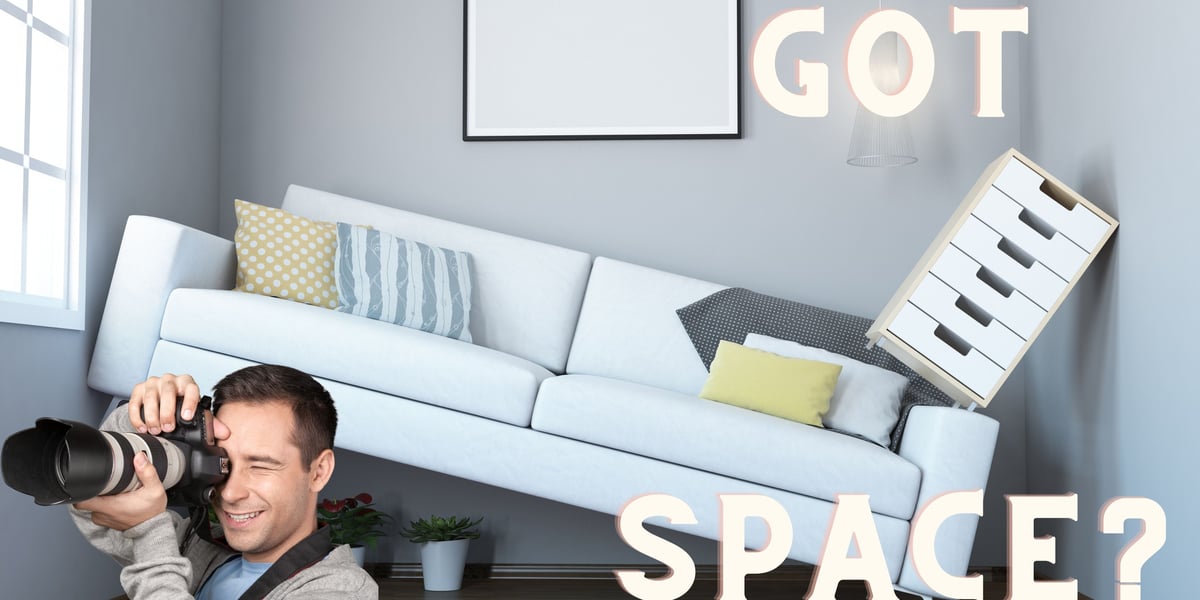 If you only have a small room for your boudoir shoot
Maybe you live in a small house or apartment and can't seem to find a great, large space. If so, don't worry, I've been in that situation and you can still create stunning boudoir images in your first few sessions.
The key is knowing what angles to use and what lens to use (Currently writing a blog about this and will link to this part. If you sign up for our newsletter then you will be updated when this is posted ;))
Lighting, the other crucial element
There are plenty of situations when lighting can't be used to your advantage (Shout-out to my Seatle low-light dreams 😉) but shooting indoors can help create new opportunities.
You can make your own lighting set-up for your boudoir shoot whether you want to incorporate flash, video light, or use natural light. Personally, I have done a lot of very creative and beautiful boudoir work using OCF (off-camera-flash) but now most of my work is just as magical using natural light.
To talk more about lighting set-ups is a little out of this article, and we will be covering that in a future blog post. Keep in mind that the more lighting equipment you have to use the more time you will have to commit to getting it perfect.
So to sum it up, if you're shooting boudoir photography in your home then don't overlook the option of turning a room into a boudoir studio! It can be much cheaper than renting out a space and much more flexible!
3: Outdoor boudoir: the new trend in boudoir photography?
I was a little hesitant to list this idea because if you aren't careful it can get you in trouble!
At the same time, I know that there are some amazing images that have been taken on outdoor locations and there are quite a few members in the boudoir photography community who have had a lot of success incorporating outdoor boudoir sessions in their business.
The first point I want to bring up is your client doesn't have to go fully buff outside. You can wear plenty of outfits that will look amazing with the right flattering poses and natural light.
The second point is most photographers will think somewhere exotic, but if you have a backyard, there is so much potential there as well! If you have a large enough backyard, you can incorporate landscaping and create your own unique scene. You can also create some amazing water scenes using nothing but a kiddie pool, some real or faux flora, and a sheet.
The third thing I would say is to use common sense. Is the space private enough? What is your clients' comfort level at being outdoors? Conservative clients might not like the idea of an outdoor shoot if their privacy isn't assured. Is where you live cold half the year? Then don't plan on shooting on the beach during winter without taking proper precautions. ☺️
Either way, outdoor boudoir sessions are a sure way to build your portfolio and a great place to start or add variety to your boudoir photography business! 🙌🏻
4: Renting a Studio or Airbnb is Easier Than You Think
Renting a location may have been one of the first thoughts that came to your mind before you read this article. However, I have exciting news! I actually spent nearly the first year of running our boudoir photography business doing only this method!
I have much more to say about this, and I'll be releasing a full blog that goes into far more detail on the simplest and most profitable technique to do this, as well as providing your boudoir clients with the ideal experience!
Meanwhile, the most important thing I can tell you is to contact out and inquire about an hourly rate. It's usually less than what you'd think! And you get to build different looks for your boudoir portfolio as well as profit in your boudoir business!
When working with new hotels, rental homes, or Airbnbs keep check-in and check-out times in mind. This is important because you will need to have enough time that you can pack/unpack, familiarize yourself with the space and manage what type of daylight you will have to work with.
5: Unused Commercial Space Can Be Your Best Friend
To this day, there are plenty of photographers that run their entire boudoir business based on this tip. Using unused space in a commercial building can really create a boudoir studio out of thin air and cost you next to nothing!
Churches, warehouses, office space, art galleries, and other structures have all been converted into boudoir studios! If the owners of a church that is closed for most of the week or a warehouse that is closed during the weekend are amenable to you using the space, then there is nothing stopping you short of asking! Plus, the rates to rent out are usually at a discounted rate.
If you don't know how to go about renting a space I would suggest networking or reaching out and explaining that you're a photographer and that you'd like to rent out a space for a few hours.
While you want to be transparent, you don't want to say something like "I'm looking to rent out a space so I can take sexy pictures of women", so please keep things professional and know what you are going to say before calling.
If you have a following on your social media accounts
Give a shout-out that you are looking for a new location. Many local businesses, potential clients, and other social accounts that follow you are more than willing to help! You have a lot to offer as a photographer, you can offer another business a photo session as a thank you! You can offer:
Headshots
Family Sessions
Real Estate Photos
Product Photos
And more! If it is an existing business that constantly needs new photos for its web presence or Facebook page, then it would be a phenomenal business plan to keep this relationship going!
*You don't NEED to have a huge following, but it won't hurt if you do!
Bonus Tip: Ask for Help from the Boudoir Community
It always impresses me when I hear stories about how much the boudoir community loves helping each other out. Facebook Groups are an excellent place to find successful boudoir photographers that are willing to help you out. These photographers have already been down the road you're going, and they definitely want to help you out.
The boudoir photography community can give you referrals, locations, wardrobe, make-up artists, and more! I always like to think of the Photography Community as my second family and anytime someone helps me out I'm more than happy to reciprocate!
Not only are some of the nicest people you'll ever meet, but they will also help grow you grow as a boudoir photographer! They are more than happy to give you advice on the first few sessions or how to start your photography business.
Keep in mind, a lot of members have their own businesses to run. If they are an experienced photographer, they more than likely are booked with boudoir sessions. However, if you are patient, and reach out for help, more than likely someone will be happy to make time and help you and give advice on how to get started!
In Conclusion
After reading this article, I hope you have a much better idea of how to run a boudoir business without the need for expensive studios! Boudoir photography isn't just sexy photos anymore, it's an experience that many women dream of partaking in.
There are plenty of ways to get started with boudoir photography, but the location is something that I know is the first wall of fear when it comes to starting boudoir. If you follow the quick tips in this article and network and connect with other successful boudoir photographers, then you'll be one step closer to getting into the industry!
If you need help on boudoir posing, marketing yourself, creating stunning boudoir photos, and getting more boudoir clients, rest assured! I have more blogs coming that are not only dedicated to boudoir photography but how you can start your own boudoir business. You can join our newsletter by clicking here to make sure you don't miss out!
Let us know if any of our Boudoir Photography Tips have helped you, we won't know what to write if you don't tell us!
All the love,
-Leo
Wrapping it All Up
If you love surprising your significant other, celebrating you, and giving back to yourself. A boudoir session is hands-down the perfect gift for your Valentine's Day!
And truthfully, it's a pretty awesome gift for any occasion! Engagement surprise, anniversary gift, or just something special to treat yourself with - these gifts will, without a doubt will be unforgettable.
But please remember, spots can fill up fast, so always check availability and be sure to bring up the date you need everything by! If it is a last-minute idea don't worry! Mini Boudoir Sessions are an option, and we work together to make sure your images are edited in time for the date you need them by!
If you still want helpful tips on preparing for your boudoir photoshoot, I got you! You can check out other helpful posts we made in our boudoir resources section.
If you're looking for boudoir ideas, experiences, and fresh ways to empower yourself and celebrate who you are, sign up for our newsletter! If you do I will do a little jig and be inspired to write more!
See you next time! With love,
-Leo